Goto Home Page
Unique Features of Busy Accounting Software (Part-1)
---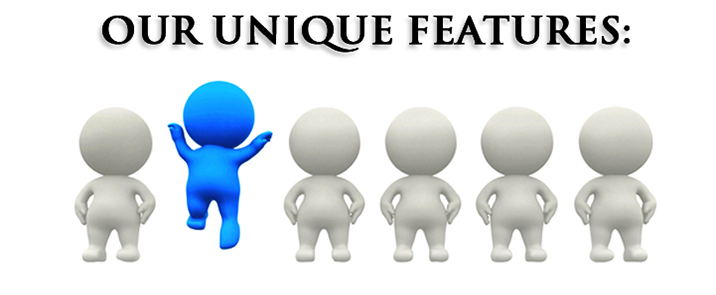 The GST pressure is now coming to normal day by day, and businesses are coming to their routine work now, as all of us have implemented GST in their accounting and billing software successfully. During the course of transition, you all might also have come across some critical situations like -
But, you all must have successfully crossed all these situations in my belief. So, in this post we will not talk about GST, but we will touch a different subject.
As we all know that, there are more than 6 Lakh users all over India who are using Busy Accounting Software to manage their accounts and their businesses. And you also might be among one of them. But, most of the users among them are those who use only 30% - 40% of the features of the software. They are just using the basic accounting and inventory tools.
So, I have decided to make you all aware about some unique useful features of Busy Accounting Software, which might be looking very small but can bring a lot of utility in your business. And I will be doing it in 2-3 sequential posts in order to make the features clear and keep them brief. But, be prepared that not all the features will click you, rather only 2 out of 10 may be beneficial for your business -
Salesman wise Reporting
Almost all of us have Salesmen in our organisation (the same concept will apply for Broker also), through whom we make our sales. Some times, at the end of the month we require to know how much sale is done through a particular salesman so that -

- We can assign the outstanding bills of that particular salesman to him, for payment collection.

- In order to calculate his commission on sales made by him.

Both these things can be done automatically by

Busy

, by enabling the Salesman module in Features/Options.
Maintain Date wise Price List
If in your business you make use of price list frequently, you can store the prices and discount structure of the items in their item master and while sales Busy will automatically take the price from their. But what happens when the prices are changed frequently in between the financial year. It is hard to remember what price was their on that day in the past, while modifying any voucher. Now, Busy takes care of the same and can maintain your prices and discounts date wise.
Maintain Item Serial Number wise tracking
For all those who deal in Electronics / IT / Mobile or any such industry where they provide warranty to their customers, it is commonly seen that their product consists of a unique serial no. through which all this is tracked and controlled. So, cater the need of all such segments, Busy has given a very special Serial No. and Warranty tracking system, wherein you can assign a unique serial no. to the products at the time of manufacturing or purchase and that can be easily printed on invoice while selling the product. This feature is special in such way that it consists many small-2 tools which will help us in implementing the same in our day to day business life. You can easily see a list of all the products in your existing stock along with their serial no. and can also check the history of any serial no. like when it was purchased and when it was sold to any customer. We will also discuss this feature in details in my upcoming post in near future.
Maintain Schemes, Offers and Targets
Now a days it is common to float Schemes and Offers for Business Promotion for a particular period. For example, you must have come across -
- Buy One Get One Free Schemes
- Buy Three Jeans Get One Shirt Free Schemes
- Get 10% off on Purchases over 10000 in a single invoice
These type of schemes and many more, you all must have come across mainly in retail stores and distribution segment. But, did you know that this all can be made possible through Busy and that it will be calculated and monitored automatically.
Alert Message or Mail in case of abnormal situations
Some of the times, it is observed that in small business firms the operator or accountant is the single person handling the software and he has got all the powers over all the entries. So, he can add, edit or delete any entry anytime he wants. And the owner also can not stop the same, because we restrict the power of the operator, sometimes his work will suffer if he wants to genuinely do that entry urgently. So, in Busy we have got again a unique feature wherein we can apply alerts at various events and that means that when a particular event will occur the owner of the firm will silently get an alert sms or email intimating him that kindly check if this is right activity or not. For example, the owner wants that if somebody modifies any old invoice he should get an alert, if an entry of cash is made over Rs. 20000 an alert should be sent, if any entry is deleted he should be informed and there are many more such cases, which can occur. So, in every such case the software will not stop the operator from doing the same but it will silently inform the owner about the same.
Bill Multiple tax rate items in single invoice
Many a times, we face a situation when we have to bill multiple tax rate items to one party. Like 2 items of 18% and 1 item of 12% in single invoice together. In Busy, we have the facility to raise multi tax invoice on single page without any problem, and software will automatically calculate different-2 tax rates as per the tax category defined in item master. This saves a lot of paper and manpower.
You can design reports in Busy Accounting Software in your own required formats. You can add n number of columns or rows to any report. You can configure any number of formats for the report and view report in any of the configured format. You can configure separate format for each report. This is a very powerful feature as with this you can customise report as per your requirement.
You can contact your Busy Software Dealer for any further discussion about any of these features mentioned above.
Like us on Facebook :
Related Posts
---