Goto Home Page
Commonly Faced Errors And Mistakes In Filing GSTR1 Return
---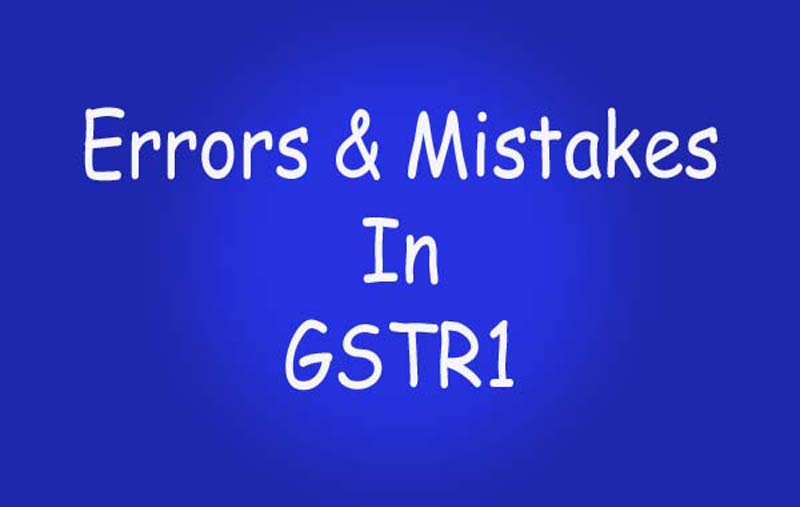 We have found that most of us are finding a lot of problems in filing our GSTR1 e-return. Some are due to the complexities in the process of government portal in filing the return and some are due to our lack of knowledge and improper data feeding in our accounting software. So, here we trying to provide you the first hand information, that you can use and share with your loved ones to go through, before they prepare and file their GSTR1, in order to avoid any inconvenience.
Click Here To Know How to prepare and file GSTR-1 from Busy Accounting Software
The following are the points to take care while filing your GST return -
1. Make sure that your company's own GST No. is feeded correctly.
2. Check that the GST Nos. of all the registered parties whose account masters we have created are correct.
3. Check that the State and State Codes are defined in all the party masters.
4. Make sure that the HSN/SAC codes are specified in all Item and Expenditure masters and are correct.
5. There should not be any negative quantity in HSN Summary.
6. Enter the Item description of all the HSN Codes thru the Update GST/HSN Description option in -> GST Misc Utilities Menu Option in Busy.
7. Items with multiple units -
This is the most common problem faced by our most of the users. It is the case when we have an Item named for example, Iron Sheet and we sell it Pcs as well as Kgs. And the HSN code for the Iron Sheet is same in both the cases.
Now, the GST portal does not identify single item with 2 different measurement units. So, it will give you an error. Now, what we have to do is to specify in Busy different Item Descriptions for both the unit combinations, like -
In First case, write "Iron Sheet in Pcs".
And In second case, write "Iron Sheet in Kgs".
8. Don't mix between Zero rated and Nil rated items. Understand the difference between all these clearly here :
Nil Rated

It is the supply of goods and services that have

0% GST

.


Example:

Grains, salt, jaggery etc.

Exempted

It is the supply of goods and services that does not attract GST and allows no claim on ITC.


Example:

Bread, fresh fruits, fresh milk and curd etc.

Zero Rated

Zero Rated Supplies include:
- supplies made to any country other than India; and
- supplies made to customers located in Special Economic Zones (SEZ) or SEZ Developers.

Non-GST

It is the supply of goods and services that does not come under the purview of GST while other taxes maybe applicable.


Example:

Petrol, alcohol etc.
Now, you can generate and upload your return GSTR1 very smoothly.
In order to help you and demonstrate the process, we have also described the whole process of creating the GSTR1 return in details and attached a video for this in details. For which, you can visit our following link -
Click Here To Know How to prepare and file GSTR-1 from Busy Accounting Software
Like us on Facebook :
Related Posts
---